EPIC REDEFINED
Heavyocity's DAMAGE gives you 30 GB of drama, fusing industrial sounds and orchestral drums into a devastating electro-acoustic barrage. Percussive Kits provide more than 200 deeply-sampled percussion sources, and over 500 single-shot elements. These orchestral drums samples will transport you to another world with their sound in this cinematic percussion VST.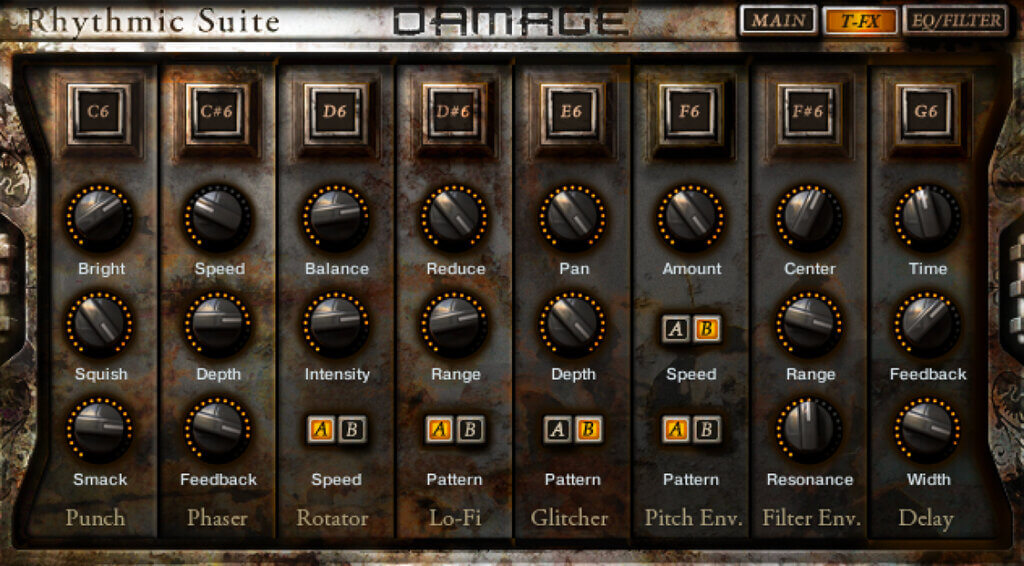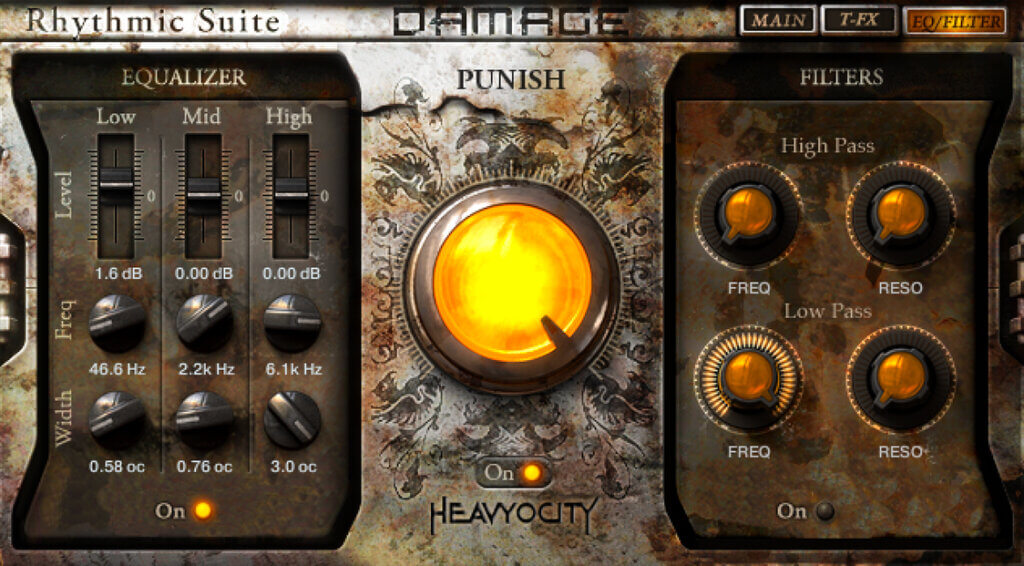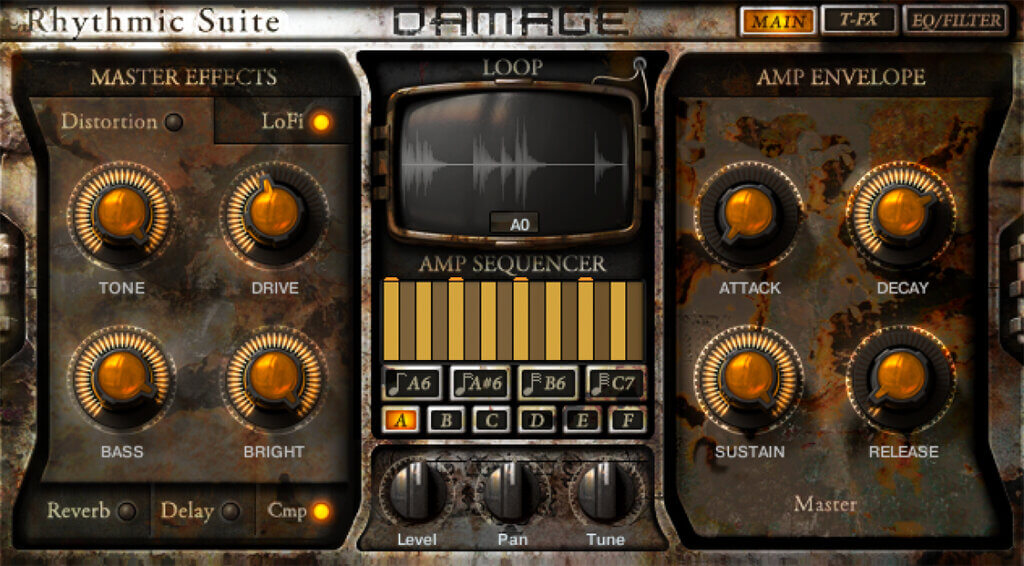 LIMIT-PUSHING SOUND SOURCES
Heavyocity's DAMAGE cinematic VST features traditional orchestral percussion, premium snares and toms, and an assortment of wooden and metal objects. And then there are the more-obscure sound sources in this industrial drums VST: exploding cars, cranes, a junkyard, a dumpster, and large objects dropped from great heights.
DEVASTATING KITS
With 58 multi-sampled drum kits, constructed from more than 200 deeply-sampled percussion sources and over 500 individual single-shot elements, the DAMAGE orchestral percussion plugin combines percussion instruments and sampled objects to devastating effect, injecting power and personality into any production.
AGGRESSIVE LOOPS
Iconic DAMAGE Loops:
Instant inspiration.
Total Destruction.
People Are Talking
Awards, Reviews, and Testimonials
"DAMAGE is a great musical tool for those looking for ballsy percussive sounds that will add color and vibrance to their tracks.  It has great sounds and an intuitive interface."
Brian Tyler
"Avengers: Age of Ultron, Crazy Rich Asians, Thor: The Dark World "
"The creative possibilities of this library really feels endless. You will have certain expectations with a product called DAMAGE, and Heavyocity's new offering will shatter all of them."
David Buckley
The Good Wife, Jason Bourne, The Town
"Within seconds of installing DAMAGE it became an essential part of my studio. It's unique tempo-synced loops and dynamic multi-sampled percussive instruments immediately inspired creation. DAMAGE feels neither old or new- it feels just right, like it has always belonged in my studio toolkit."
Joe Trapanese
Oblivion, Tron: Legacy
"Heavyocity has raised the bar with DAMAGE; the sounds, controls, and the programming of DAMAGE are truly inspirational."
Ramin Djawadi
Game of Thrones, Iron Man, Westworld
THE ROAD TO DAMAGE
The DAMAGE objective? Create a unique, sonic blend by combining found sounds with epic, traditional drums. We captured sound sources at Heavyocity's studio in NY, Prism Sound Studios 'The Church' in Boston, Skyline Studios' A Room, and even a junkyard in Connecticut.
TWO YEARS OF DETAIL
Over the course of two years, we captured over 26,500 samples, using state-of-the-art equipment, including SSL and Neve large format consoles, API, Wunder, Neve, and Avalon Mic pre/EQs and AKG, Mojave, Sennheiser, Lawson, and Neumann Microphones.
DELIBERATE DESTRUCTION
Staying true to the Heavyocity sound, we injected a darker, more-aggressive side to DAMAGE, creating high-impact one-shot hits, EQ'd with a $h!t-ton of bottom. The signature 'DAMAGE Hits' provide devastating cinematic hits with unnerving tonal pads, controlled with the mod wheel.
30 GB uncompressed (16GB on Disk with NI lossless compression)
Available as direct download only
26,500+ samples
900+ NKIs

58 Percussive Kits w/ up to 7 velocities and 9 round-robins
16 Percussive Loop Menus
900+ Single Loop Presets

Playable Trigger FX for real-time control
Loop Modifiers for real-time loop playback effects
Deep control options for detailed sound design, sound positioning tweaking
Stand-alone, VST, AU, AAX
Powered by the Kontakt Engine
Kontakt 5 (Player) ver 5.5.1.451 or higher, NKS compatible
Minimum System Requirements

Mac: OS X 10.10, Intel Core Duo, 4 GB RAM
PC: Windows 7 (latest Service Pack, 32/64 Bit, Inteo Core Duo or AMD Athlon 64, 2GB RAM
Damage is uniquely watermarked for each individual customer
All files in Damage are watermarked using a propriety technology
Customers may be required to provide their full Identification for authorization purposes
Legal:
Heavyocity Media, Inc. will use all remedies of the law, to their full extent, against anyone who illegally distributes/sells/shares the library
Heavyocity Media reserves the right to modify these terms at any time
Prices, Watermarking, and Availability subject to change without notice.