HIGHLY STYLIZED
DM-307 features a collection of modular synth drums, live percussion, and processed classic analog drum machines, with over 3,600 electronic, cinematic sounds you'll just keep coming back to. Plus, over 300 signature multis from top DJ/producers (Kaiserdisco, Pirupa, Uner), and cinematic composers (Joe Trapanese, Jason Graves, Kevin Riepl) deliver a pro selection of percussive elements for any track or genre.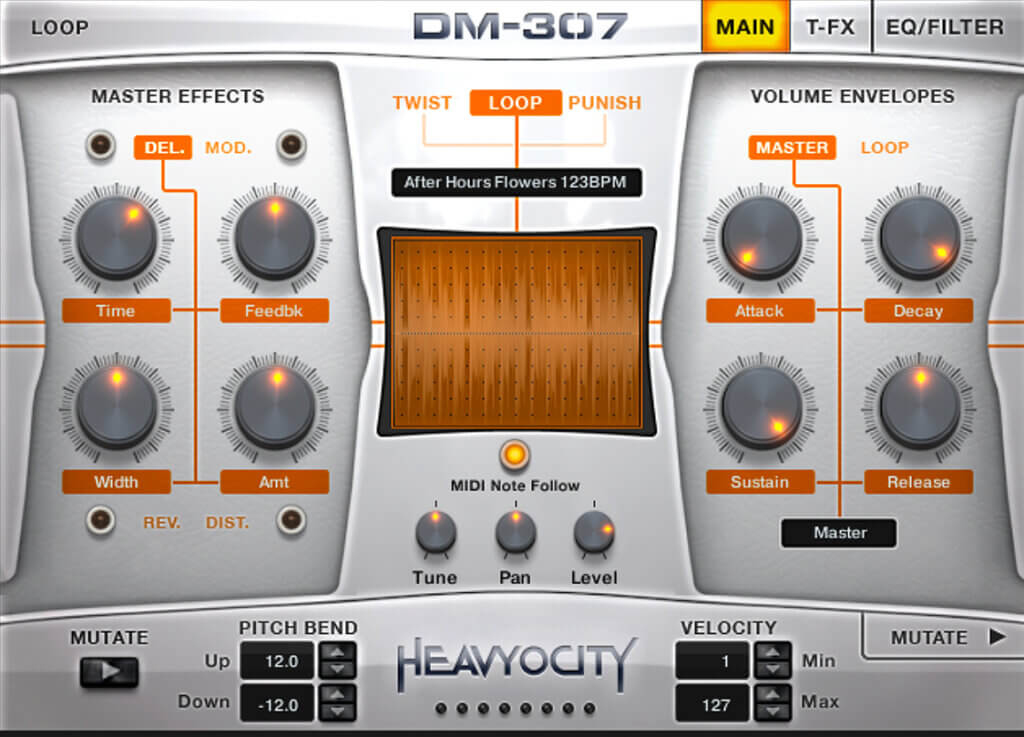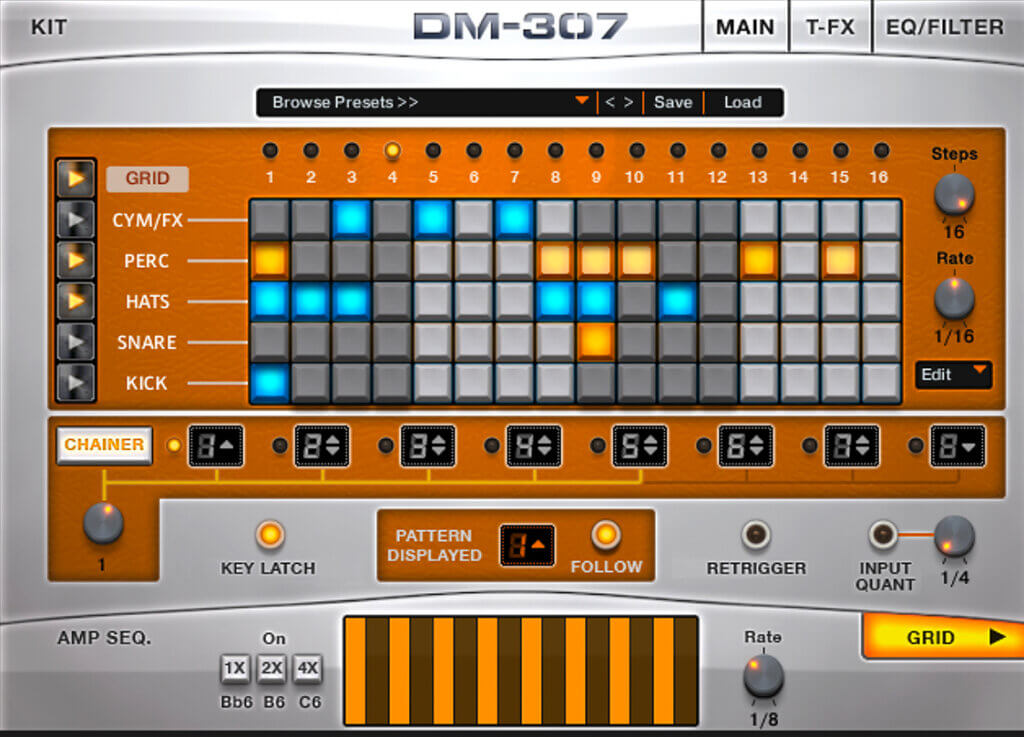 KITS
Offering more than 80 different kits, built from nearly 2,000 unique sounds, the Heavyocity DM-307 combines organic drums with processed classic drum machines and aggressive modular synth sounds to create a one-of-a-kind palette of genre-defying percussion.
LOOPS
Stocked with over 1,200 loops in five contemporary styles, the Heavyocity DM-307 provides a host of loop menus and single loop presets so you can quickly mix and match kicks, snares, hits, and other elements to build complex, layered rhythms and grooves.
EFFECTS
The Heavyocity DM-307 virtual drum machine offers three different levels of effects. Apply globally with the Master FX (reverb, delay, distortion, modulation, twist and punish), Trigger Performance Effects, or tweak individual sounds. The Kontakt drum machine's signature Punish and Twist knobs preside over everything, adding aggressive drive and character to your beats.
People Are Talking
Awards, Reviews, and Testimonials
"DM-307 continues to innovate the Heavyocity sound through immersive sound design and musical programming. DM-307 offers me a versatile sound palette that expands the possibilities of musical expression and creation."
Ramin Djawadi
Game of Thrones, Iron Man, Westworld
DM-307 is yet another example of Heavyocity standing out from the crowd. Their stuff is always bold, and let me tell you this thing is BOLD. Some of the sounds will take your head off.
Steve Jablonsky
Transformers (Film Franchise), Deepwater Horizon, Lone Survivor
"DM-307 has a great deeply-customizable interface to create the rhythm, energy, and motion I need for my scores. I look forward to digging in to yet another sonic feat from Heavyocity."
Jack Wall
Call of Duty: Black Ops II, Mass Effect Series
Hands down, my new number one go-to for any drum/percussion sound.
Jason Graves
Dead Space Series, Tomb Raider, Far Cry Primal
LIVE PERCUSSION
For nearly a year, we captured in-depth recordings of an array of percussion instruments, with instruments ranging from congas and bongos to small metals and triangles, and an arsenal of drum kits.
CLASSIC ANALOG DRUMS
The Heavyocity DM-307 virtual drum instrument delivers our signature 'music-meets-sound-design' approach on the highly sought-after sounds of classic analog drum machines. Captured using pristine analog gear like the Neve, Wunder, and Chandler mic pres, the results are punchy, crisp, and dynamic, providing serious character to these serious sounds.
MODULAR SYNTH DRUMS
Aggressive, fat, and in-your-face, DM-307 contains the uncompromising sound of true analog synth percussion. Using an array of modules including VCOs, vactrol filters, vacuum tube compressors, vacuum-tube distortion, and analog bit designers, all sound-shaping took place completely within the analog synthesis realm, custom-designing sounds from the ground up.
7.5 GB uncompressed (4.8GB on Disk with NI lossless compression)
Available as direct download only
3,600+ samples
1500+ NKIs

85 Kits
180+ Kit Grooves
55 Loop Menus
1200+ Single Loop Presets

300 Performance Multis
The Grid™ drum machine for easy beat creation
Playable Trigger FX™ for real-time control
Loop Mutator™ for real-time re-composing of loops
Stand-alone, VST, AU, AAX
Powered by the Kontakt Engine
Kontakt 5 (Player) ver 5.5.1.451 or higher, NKS compatible
Minimum System Requirements

Mac: OS X 10.10, Intel Core Duo, 4 GB RAM
PC: Windows 7 (latest Service Pack, 32/64 Bit, Intel Core Duo or AMD Athlon 64 X2, 2GB RAM
DM-307 is uniquely watermarked for each individual customer
All files in DM-307 are watermarked using a propriety technology
Customers may be required to provide their full Identification for authorization purposes
Legal:
Heavyocity Media, Inc. will use all remedies of the law, to their full extent, against anyone who illegally distributes/sells/shares the library
Heavyocity Media reserves the right to modify these terms at any time
Prices, Watermarking, and Availability subject to change without notice.