THE EVOLUTION OF CINEMATIC SOUND
Experience the most dynamic collection of modern scoring tools ever assembled. Developed by our award-winning team of professional composers and sound designers, Heavyocity's GRAVITY covers the gamut of intangible scoring elements: complex pads, evocative risers, other-worldly stings, and earth-shattering hits.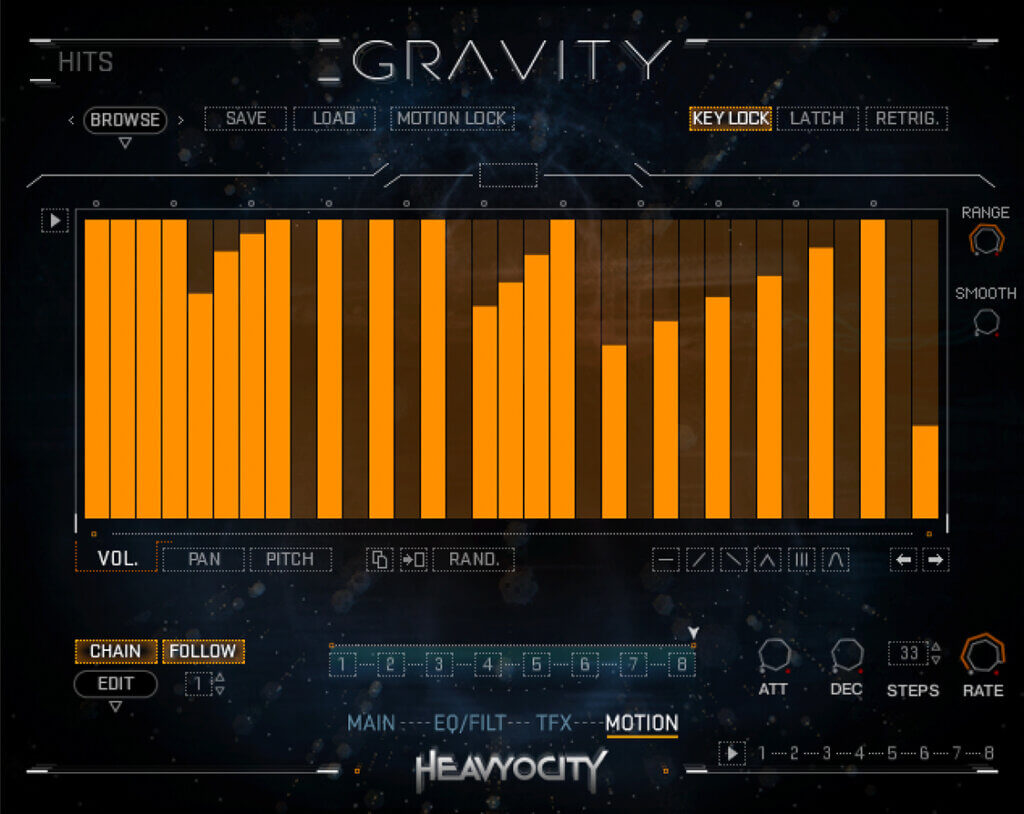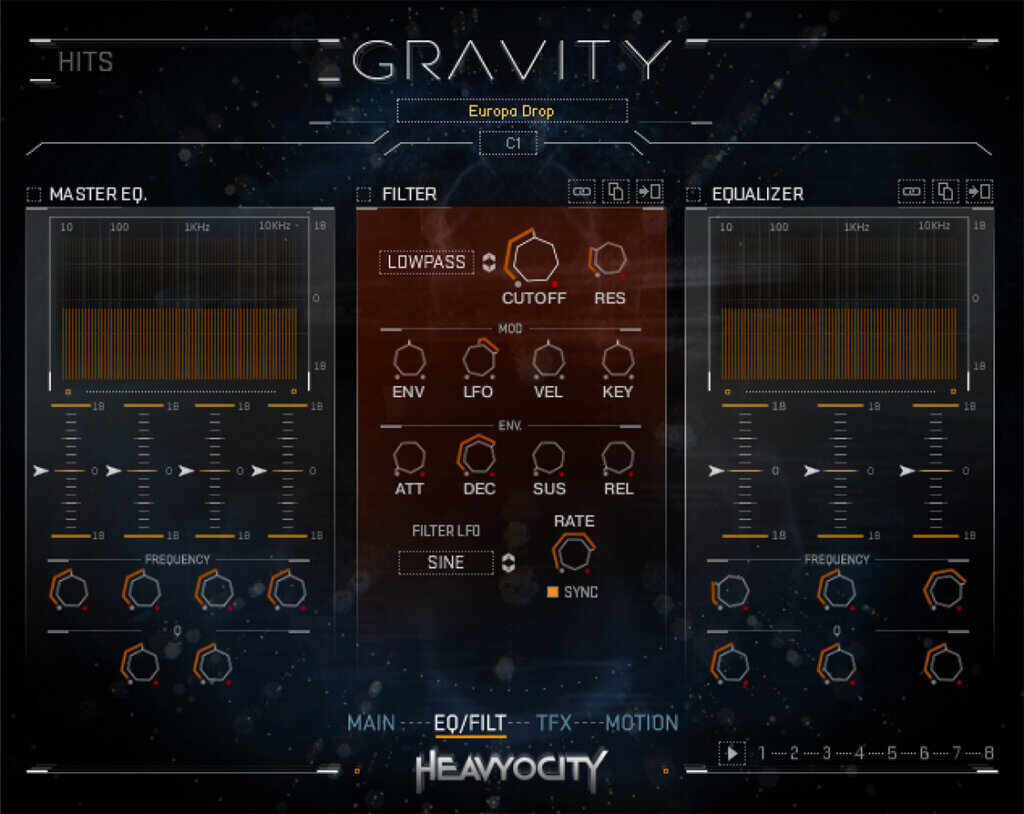 HITS | STINGS
Add weight to your dramatic moments with powerful hits and stings by using this film scoring software. Combine up to four of the 192 distinct elements to create an unlimited range of unique hit combinations with this Gravity music pack. Plus, 400 individual stings cover a vast range, from reverse hits and whooshes, to disturbing metals and aggressive tonal sweeps.
CINEMATIC PADS
With playable atmospheric textures, evolving tonal pads, and intricate SFX beds, Heavyocity's GRAVITY film scoring software is your go-to instrument for ambient composition and emotional pull. Presented in three-channel complex, menu ,and single channel formats to support multiple workflows.

TENSE RISERS
Fully-customizable risers enables you to combine organic, synth, and FX layers to create entirely unique risers on the fly. Change duration, syncing to beats or time, for total control over ascending tension and suspense.
DESIGNERS
As composers for film, television, and video game trailers, we know that great-sounding hits and hybrid risers are in short supply. The new DESIGNERS offers deep customization, providing the perfect accents for your score.
MOTION
Break the boundaries of static sound with the all-new MOTION feature. From smooth, tempo-synced swells and rhythmic pulsing motifs, to complex stutters and glitch effects.
PEOPLE ARE TALKING
Awards, Review, and Testimonials
"GRAVITY is the perfect tool for any composer scoring to picture. The sounds are inspiring and categorized in a really smart way. GRAVITY has already become one of my go-to scoring tools. Thanks for nailing it again, Heavyocity."
Steve Jablonsky
Transformers (Film Franchise), Deepwater Horizon, Lone Survivor
GRAVITY is stunning. You guys have done it again.
Max Richter
Recomposed: Vivaldi - The Four Seasons, The Leftovers, Woolf Works (Ballet)
The diversity of sound within GRAVITY is astonishing. Each sound inspires new ideas and creative techniques that enhance my writing process. Any musician will benefit with GRAVITY in their toolbox.
Ramin Djawadi
Game of Thrones, Iron Man, Westworld
GET PULLED IN
With GRAVITY, we didn't set out to build just another virtual instrument, we set out to provide unmatched sound in an inspiring, easy-to-use interface. The all-new MOTION feature joins the reimagined Punish and Twist knobs to further spark your musical imagination.
ORGANIC SOURCES
We spent over a year bowing, bending, resonating, smashing, dropping, and colliding at premium studios across the US. The result is a highly-detailed collection, delivering a full range of meticulous hybrid scoring elements.
EXPERT PROCESSING
It's no secret we love our analog gear, and GRAVITY wouldn't be a Heavyocity instrument without some serious mangling and processing. We fed source material from our rich library into custom-built modular analog units and layered and tweaked until they screamed that signature Heavyocity sound.
2200+ Sound Sources
Over 1200 Custom Presets:

780+ Pads
390+ Stings
19 Riser Menus
9 Hit Menus

815+ Additional Snapshots
325+ Motion Presets
Two new "Designers" for Hits and Risers
Motion Page for advanced volume, pitch, and pan pattern creation
Playable Trigger FX™ for real-time control
12 GB uncompressed (9.2 GB on Disk with NI lossless compression)
Powered by the Kontakt 5 Engine
Kontakt 5 (Player) ver 5.5.1.451 or later
Komplete Kontrol integrated (NKS-ready)
Available as direct download only
Stand-alone, VST, AU, AAX
Minimum System Requirements:

Mac: OS X 10.10 or higher, Intel Core 2 Duo, 4 GB RAM
PC: Windows 7 or higher (latest Service Pack, 32/64 Bit, Intel Core Duo or AMD Athlon 64 X2, 4GB RAM
GRAVITY is uniquely watermarked for each individual customer
All files in GRAVITY are watermarked using a propriety technology
Customers may be required to provide their full Identification for authorization purposes
Legal:
Heavyocity Media, Inc. will use all remedies of the law, to their full extent, against anyone who illegally distributes/sells/shares the library
Heavyocity Media reserves the right to modify these terms at any time
Prices, Watermarking, and Availability subject to change without notice.