RE-ENVISIONING ELECTRIC KEYS
Mosaic Keys explores the sonic warmth of electric keys, delivering moving synthetic keyboards, organic found sounds, and effectual sound design elements.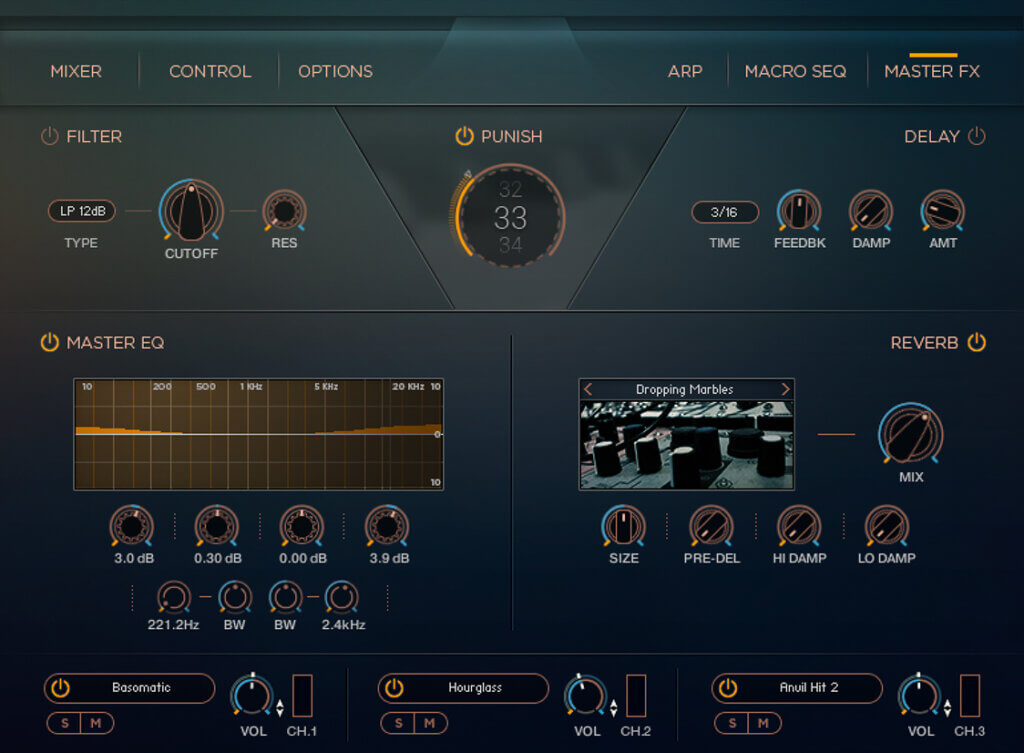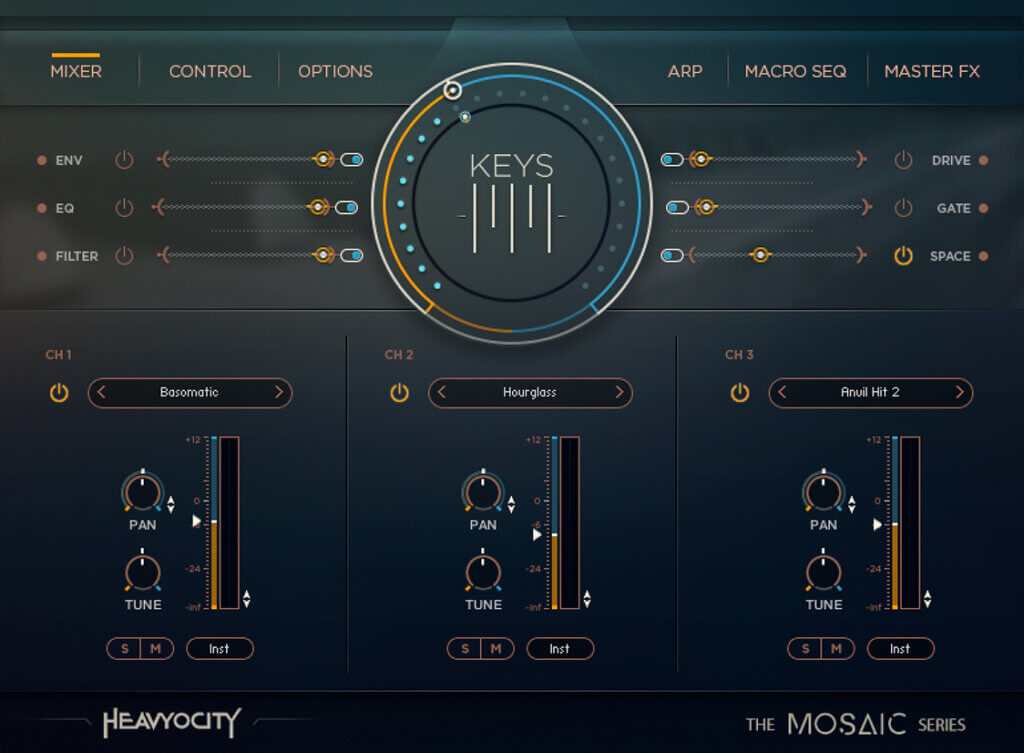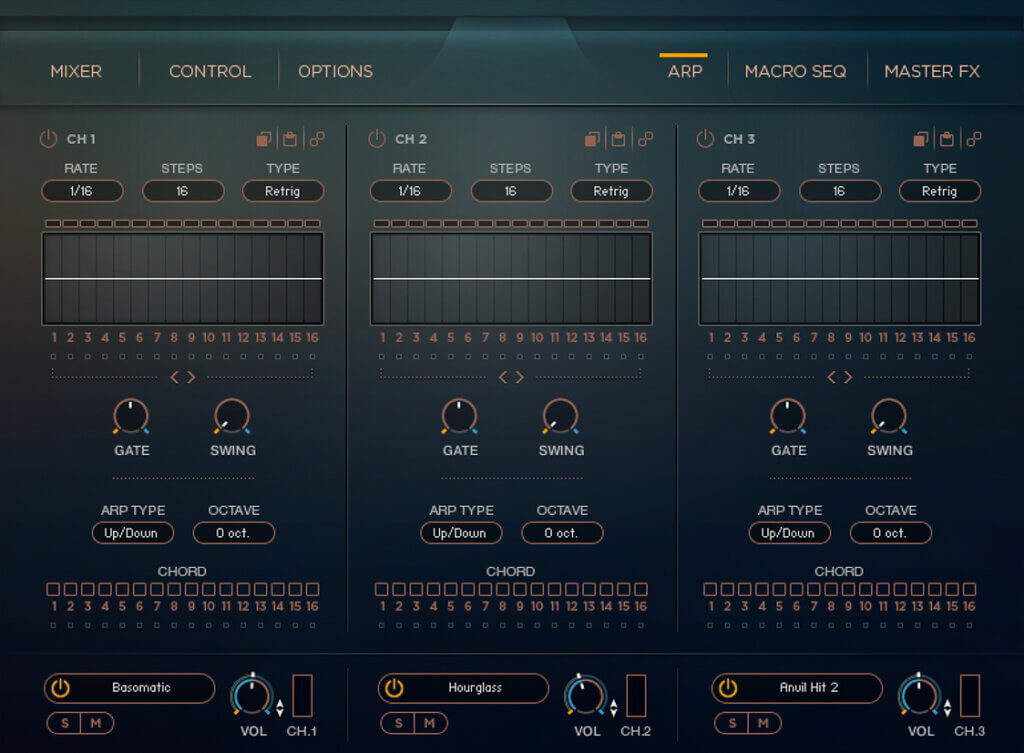 ORGANIC SOURCES
Designed Electric Keys layer lyrical melodies over warm cinematic soundscapes.
LAYERED TEXTURES
Synthetic Keys combine with organic found sounds and intricate noise layers to create lush, modern textures.
INSPIRING STARTS
Mosaic Keys includes over 180 carefully-crafted snapshot presets, creating perfect starting points for the creative composer.
People Are Talking
Awards, Reviews, and Testimonials
"Mosaic Keys is an incredibly inspiring and intuitive tool. With such an expansive range of textures and colors, it will no doubt find its way into many of my future projects. Its sound sources are uniquely compelling, and its ability to layer these sounds with dynamic parameter control makes it truly unlimited in its creative scope."
Germaine Franco
Encanto, Dora And The Lost City of Gold, Tag
"Mosaic Keys is an arsenal of warm keyboard tones, carefully constructed with just the right amount of color, complemented by an analogous swath of gritty, attitude-laden patches. There's inspiration to be found in every sound, easily tailored with Mosaic's powerful sound-shaping tools."
Ramin Djawadi
Game of Thrones, Iron Man, Westworld
I love using the MOSAIC series of instruments. These instruments are streamlined and user-friendly while also providing an inspiring depth of programming options. That's a winning combination when you're creating sounds on the fly and chasing a deadline.
Ronit Kirchman
The Sinner, Limetown, Zen & The Art of Dying
"Mosaic Keys is packed with endless combinations of inspiring sounds and underlying movement. I find it to be a great springboard for ideas. The GUI is easy to maneuver and makes customizing each of the three channel's sounds super easy and fun."
Kevin Riepl
Superman – Man of Tomorrow, Justice Society: World War II, Pureza
"As with all Heavyocity lines, Mosaic Keys is another great addition to my growing toolkit. The ability to isolate various parts of each sample opens up a world of possibilities."
Tori Letzler
Wonder Woman, Captain Marvel, American Horror Story: Apocalypse
CINEMATIC ELECTRIC
Featuring over 180 handmade snapshots, Mosaic Keys re-envisions electric keys as a complex scoring tool, empowering composers to quickly and easily layer lyrical melodies over rich, cinematic soundscapes and pulsing rhythmic beds.
MOSAIC ENGINE
Mosaic Keys offers a truly dynamic set of electric keys content, but its real power lies in the thrilling combinations created when these sources are layered across the Mosaic Engine's three channels. From rhythmic and lyrical to sparse, emotional and eclectic, the possibilities are endless.
THE MOSAIC SERIES
Conceived to keep composers creative, each instrument in the Mosaic Series features a unique set of foundational elements, designed for custom layering and combination.
5.6 GB uncompressed (3.8 GB on Disk with NI lossless compression)
Available as direct download only
180 Snapshot Presets (90 Mellow, 90 Gritty)
1 NKI

60 Playable Snapshots
60 Rhythmic Snapshots
60 ARP Snapshots

268 Sound Sources

32 Synth Sources
100 Ambient Noise Sources
119 Attack Sounds
17 Hybrid Tonal Drones

Intuitive Sample Browser
ARP for building complex, rhythmic arpeggios
MACRO knob for dynamic multi-parameter control
Stand-alone, VST, AU, AAX
Powered by the Kontakt 6 Engine
Kontakt 6 (Player) or later
Komplete Kontrol integrated (NKS-ready)
Minimum System Requirements

Mac: macOS 10.12, 10.13 or 10.14 (latest update), i5
PC: Windows 7, Windows 8, or Windows 10 (latest Service Pack), Intel Core i5 or equivalent CPU, 2 GB RAM
Mosaic Keys is uniquely watermarked for each individual customer
All files in Mosaic Keys are watermarked using a propriety technology
Customers may be required to provide their full Identification for authorization purposes
Legal:
Heavyocity Media, Inc. will use all remedies of the law, to their full extent, against anyone who illegally distributes/sells/shares the library
Heavyocity Media reserves the right to modify these terms at any time
Prices, Watermarking, and Availability subject to change without notice.