DIAL IN THE DEVASTATION
From subtle warmth to extreme drive and compression, Heavyocity's PUNISH multi-effect VST plugin injects character and edge into any mix or instrument track. It's the same PUNISH you know and love, just bigger, better, and now in VST/AU/AAX plugin format.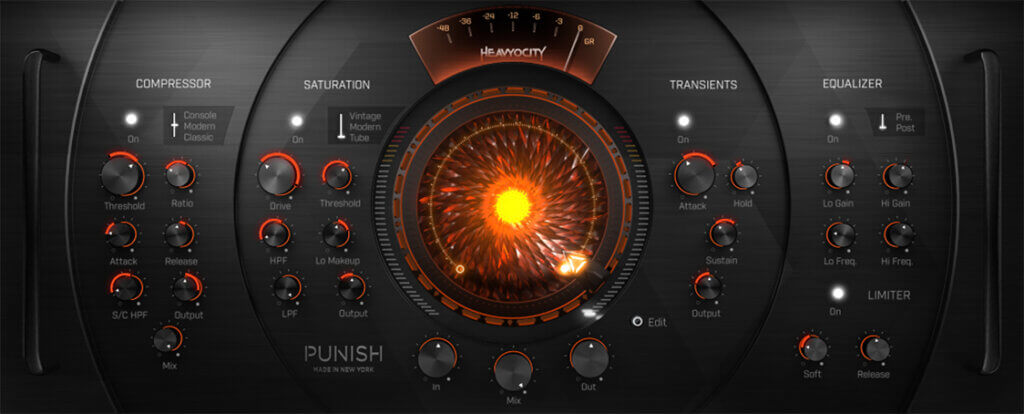 LEGENDARY COMPRESSION
With three distinct compression models, the PUNISH Compressor offers a wide dynamic range, topped off with classic analog warmth. This multi-effect VST plugin features a smooth Class A-style Buss Compressor (Console), an aggressive, fat sound with a classic "knee" (Modern), and a warm vintage limiting amplifier (Classic).

GNARLY SATURATION
The PUNISH Saturation module also features three different models, each with its own unique brand of warmth, drive, and character. With a classic broadcast mic-pre (Vintage), a chunky harmonic saturation (Modern), and a fat tube saturation (Tube), the PUNISH Saturation module can add a bit of grit to a track or drive the whole thing into overload.

TRANSIENT SHAPING
Providing control over the attack, sustain, and output gain, PUNISH's transient shaping module lets you bring stronger transients back into the signal after saturating the sound. Use the transient shaping module to hold control and determine the length of the attack.
EQ / LIMITING
Basic but powerful, the EQ module allows for the lift of the high and low frequencies. Set it to Pre or Post to affect highs and lows before (or after!) the comp, sat, and transient. To prevent clipping, the PUNISH multi-effect VST also features a Limiter at the end of the chain. Soft clip amount and release time controls are key when that saturation starts to turn things really hairy.
GLOBAL PUNISH
At the core of the multi-effect VST plugin is the central Punish Knob. Intuitively designed to modulate all of the parameters, the Punish Knob quickly and easily brings life and movement into your sounds. Start off clean and warm and go punchy or expand the ranges to really let 'er rip.
People Are Talking
Awards, Reviews, and Testimonials
The standalone PUNISH effect is everything I hoped it would be. So far I've used it on percussion and synths for that extra bit of mean and nasty. Thank you Heavyocity for this dangerous new tool.
Steve Jablonsky
Transformers (Film Franchise), Deepwater Horizon, Lone Survivor
"Sometimes my sounds are bad and need to be punished. Now I just run them through PUNISH and they become even more bad ass!"
Mac Quayle
American Horror Story, Mr. Robot, The People vs. OJ Simpson: American Crime Story
"A great go-to tool that combines what you need to add a controlled amount of saturation and punch to your percussion, or to unleash total mayhem out of your analog synthesizers."
Jean-Michel Jarre
"PUNISH is a great combo of glue, punch, and character. You can really dial in the desired intensity, it's incredibly well-conceived and the PUNISH Knob is genius."
Rik Simpson
Black Rebel Motorcycle Club, Jay-Z, Coldplay
PUNISH YOUR SOUND
Modeled after Heavyocity's custom analog signal chains, PUNISH assigns control over compression, saturation, transients, EQ, and limiting. Chain the modules together to get that signature PUNISH sound or isolate them to experience each dynamic effect on its own.
THE HEAVYOCITY SIGNAL CHAIN
We've been using our custom analog chains to mangle and manipulate sound sources for years. From epic percussion to cinematic pads to gnarly bass, our entire line of award-winning VIs has been touched up by our stable of buss compressors, tube saturation, and limiting amplifiers. And now, in just one dynamic plugin, an entire studio's worth of gear is in your hands.
IT'S ALL ABOUT THE PRESETS
PUNISH is stocked full of crafted presets, laid out over six categories—and this is where the versatility of PUNISH really shines. From bass to drums to mixing/mastering, PUNISH has a wide range of applications, with over 90 presets arranged by instrument type. Save your own and explore our staff favorites too.
90 Expertly-Crafted Presets in SIX Categories

Guitar, Bass, Drums, Keys/Synth, Vocals, Mixing/Mastering

Plug-in Formats (both 32 and 64-bit):

AAX, VST, and Audio Units (AU)
System Requirements:

Mac: OS X 10.10 or later
*Now compatible with Mac M1 Chipsets (Native)
Windows: Windows 7 or later
Internet connection is required to activate

Supported Host Applications:

Pro Tools 10.3.5+, Live 9+, Cubase 8+, Logic Pro X (10.2.4), DP9+

iLok Account (no USB Dongle required)
PUNISH is uniquely watermarked for each individual customer
All files in PUNISH are watermarked using a propriety technology
Customers may be required to provide their full Identification for authorization purposes
Legal:
Heavyocity Media, Inc. will use all remedies of the law, to their full extent, against anyone who illegally distributes/sells/shares the library
Heavyocity Media reserves the right to modify these terms at any time
Prices, Watermarking, and Availability subject to change without notice.