CONTINUE THE JOURNEY
Unearth a new breed of deeply sampled and mysteriously edgy organic percussion that will get inside your head. Continue the DAMAGE journey and uncover why the piano is truly a thought-provoking percussive instrument with Heavyocity's UNCHARTED 88 experimental VST plugin.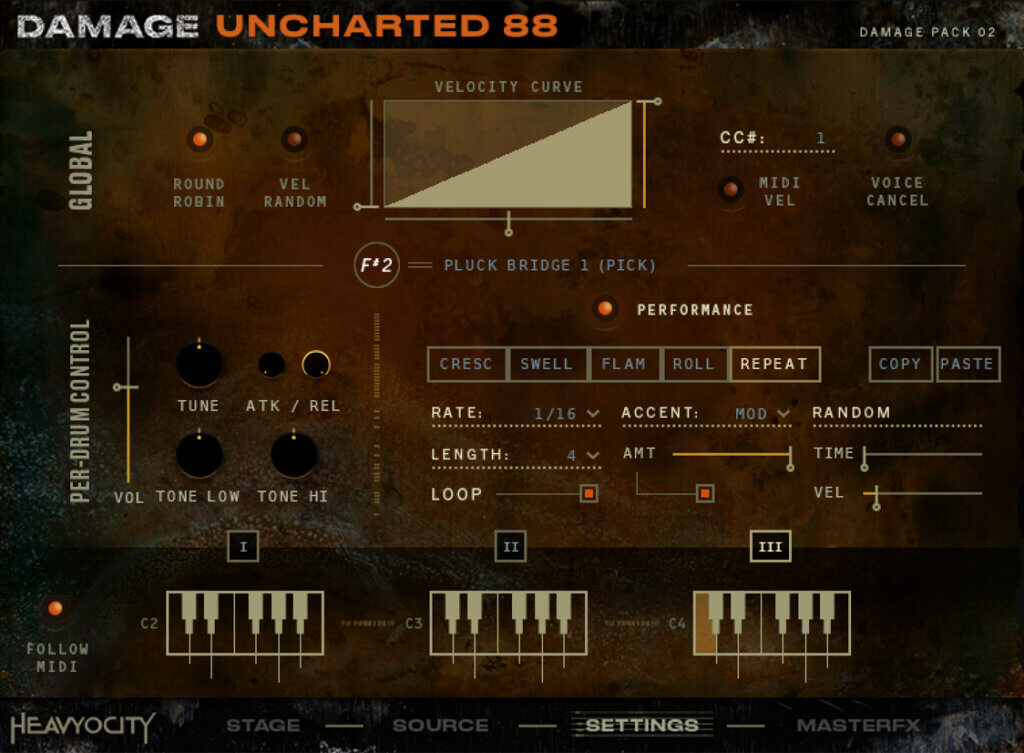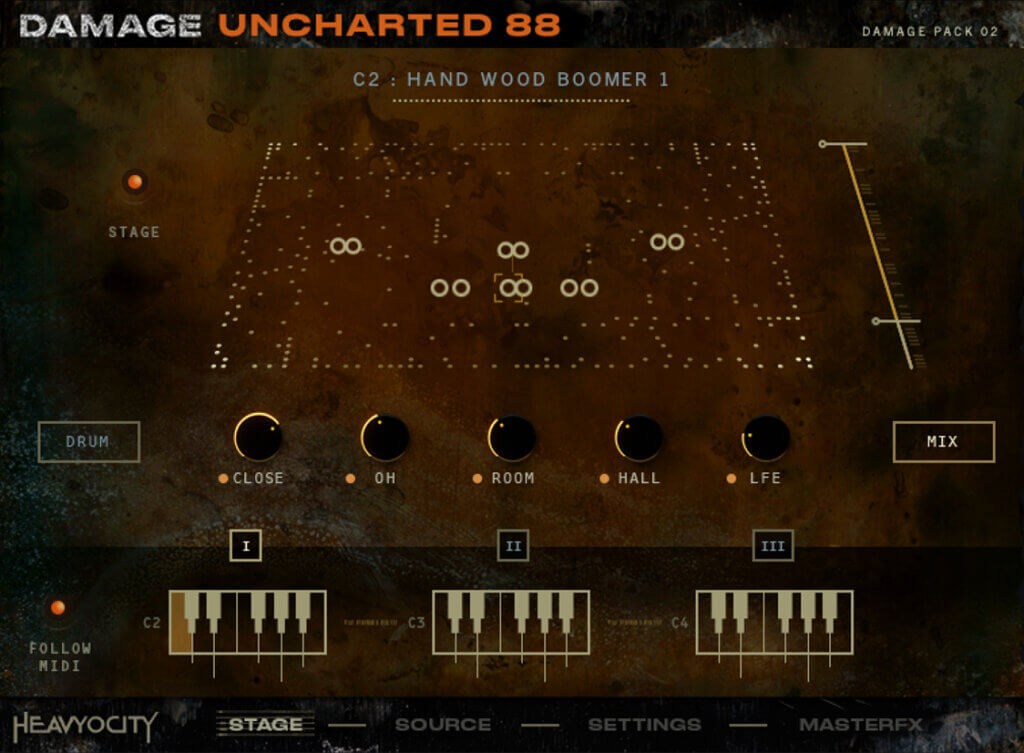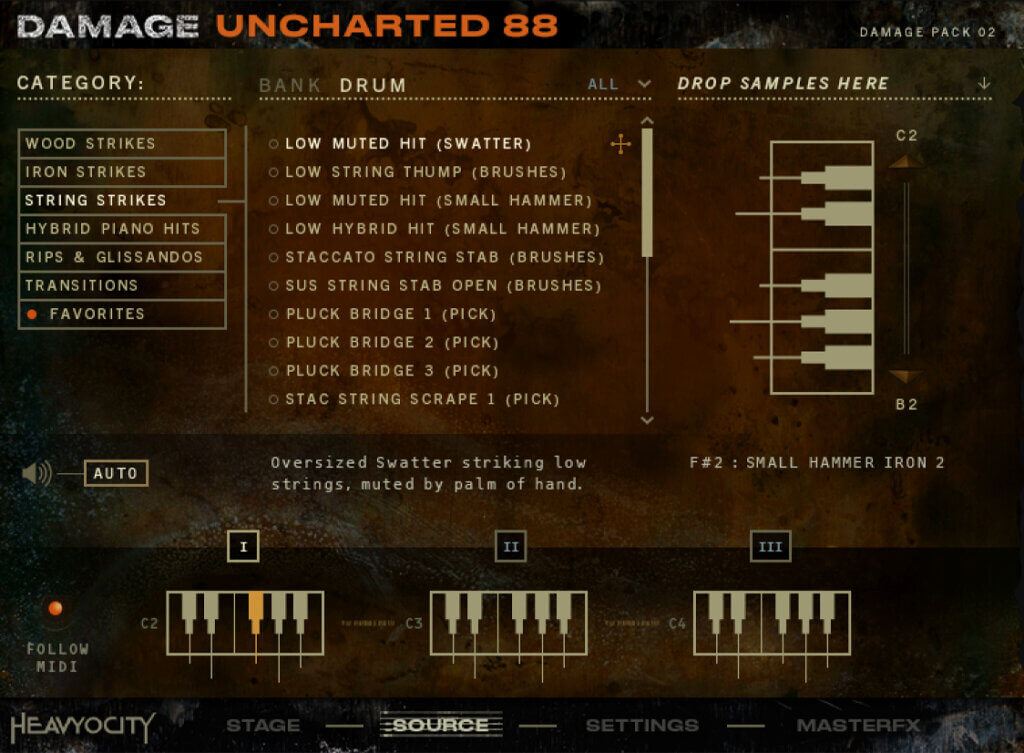 The Damaged Piano
The Heavyocity team broke down a piano to its rawest, most intimate-sounding sources — every inch of the instrument, including the strings, the iron plate, the wood frame, and more was used to create new and unique percussive elements in this experimental VST plugin.
Ensemble Designer
With over 235 playable percussion sources, the Ensemble Designer offers an array of uniquely inspiring, fully customizable, highly playable, and painstakingly detailed elements.
Curated Loops
Let your creativity flow with a massive collection of curated loops in this experimental VST plugin. Instant cue starters and tension-building grooves are made possible by these dynamic percussive beds — ranging from eerie and thriller-esque to mysterious and experimental.
People Are Talking
Awards, Reviews, and Testimonials
Harmonically rich and industrious percussion forms the backbone of UNCHARTED 88. It's clear there's a piano in the mix, but the fresh perspective and distinct performances make for a highly playable instrument that stands out.
Ramin Djawadi
House of the Dragon, Eternals, Game of Thrones
A powerful instrument that offers a wide range. The curated loops are a great way to get started quickly, and the ensemble designer allows you to create your own custom percussion instruments. The damaged piano is a unique and powerful sound that is perfect for adding tension and drama to your tracks.
Germaine Franco
Encanto, Dora and the Lost City of Gold, Little
ONE-OF-A-KIND PERCUSSION
From deeply sampled mallet, hammer, and brush strikes, to scraped strings, to the brutal Damage Piano Hits and transitions, this new chapter in modern experimental percussion was captured exclusively from the guts of a piano.
UNCHARTED TERRITORY
Chock-full of over 18,600 samples and 11 GB of visceral, organic content, suspenseful impacts, and thought-provoking loops, this deeply-sampled experimental percussion VST will push your sonic palette into UNCHARTED territory.
D2 ENGINE
The dynamic Damage 2 engine provides three unique instruments to deliver a uniquely inspiring and customizable workflow brimming with unconventional percussive sources.
UNMATCHED DAMAGE
Yeah, nobody does hard-hitting, cinematic percussion like Heavyocity, and UNCHARTED 88 continues that tradition with unique, expressive organic percussion recorded from the original DAMAGE piano board.
18,645 Samples
238 different Percussion Sources
36 Unique Damage Piano Hits
288 Creative Loops
91 Custom-Designed Presets
3 Unique Engines:

Ensemble Designer

Intuitive Browser to load in 235+ sources in octave banks and individual sounds
Instant 3D positioning with updated Stage
Five discrete mic positions (Close, OverHead, Room, Hall, and LFE)
Create realistic patterns, rolls, crescendos, and more with custom MIDI Performance Tool
Redesigned Punish Knob with three unique flavors (Gently Now, Hurt Me Plenty, Nightmare)
Customizable Master FX chain

Kit Designer

16-voice Drum Kit layout for quick and easy groove creation
Intuitive browser to load in sound sources to each key
Independent FX chains for every voice – add compression, reverb, saturation, and more to each of the 16 voices

Loop Designer

288 Loops (72 loops with 4 stems each)

144 Straight (36 with 4 stems)
144 Triplet (36 with 4 stems)

Add modulation and effects to individual loops via Unique Send FX layer
26.7 GB uncompressed (11.65 GB on Disk with NI lossless compression)
Powered by the Kontakt 6.7 Engine
Kontakt 6.7.1 (Player) or later
Komplete Kontrol integrated (NKS-ready)
Available as direct download only
Stand-alone, VST, VST3, AU, AAX
Minimum System Requirements:

Mac: macOS 10.14, 10.15, 11 or 12 (latest update)
Apple Silicon Macs (via Rosetta 2 & natively on ARM in Standalone or in hosts that support it): macOS 11 or 12 (latest update)
PC: Windows 10 or 11 (latest Service Pack), Intel Core i5 or equivalent CPU, 2 GB RAM