A DRIVING CINEMATIC SEQUEL
Heavyocity's Scoring Guitars 2 taps an arsenal of world-class guitars and amps to deliver an edgy collection of pulses, pads, phrases, and ambient beds and drones built to beef up any score.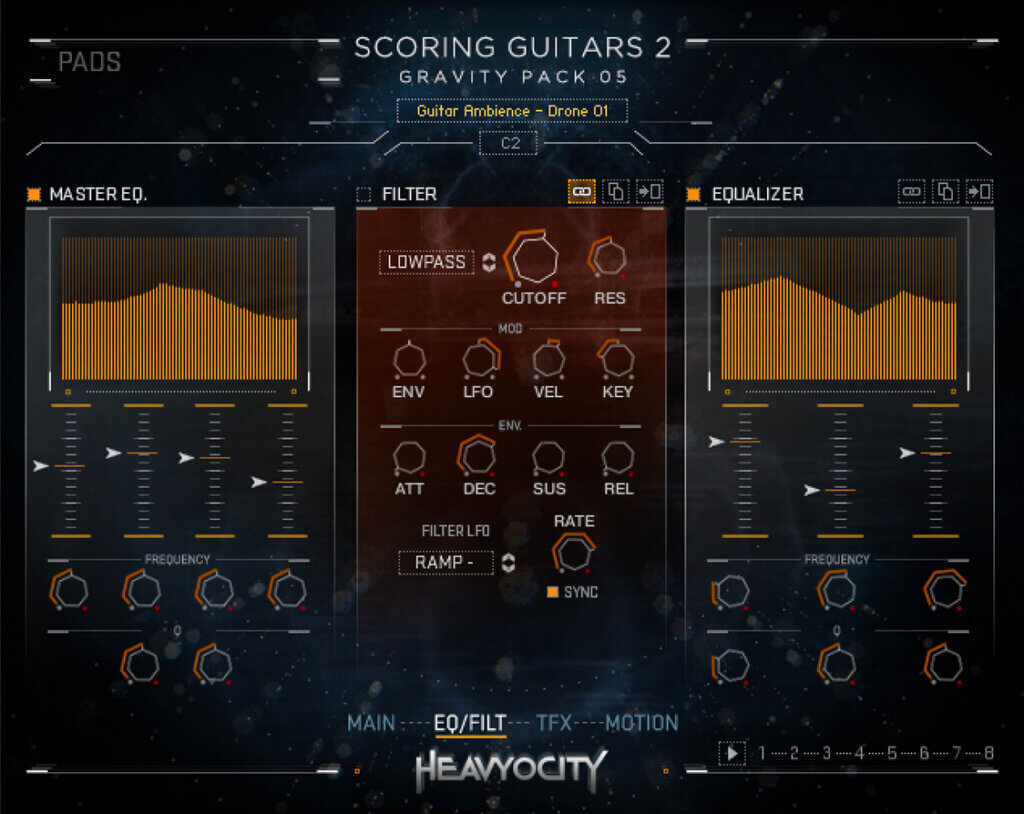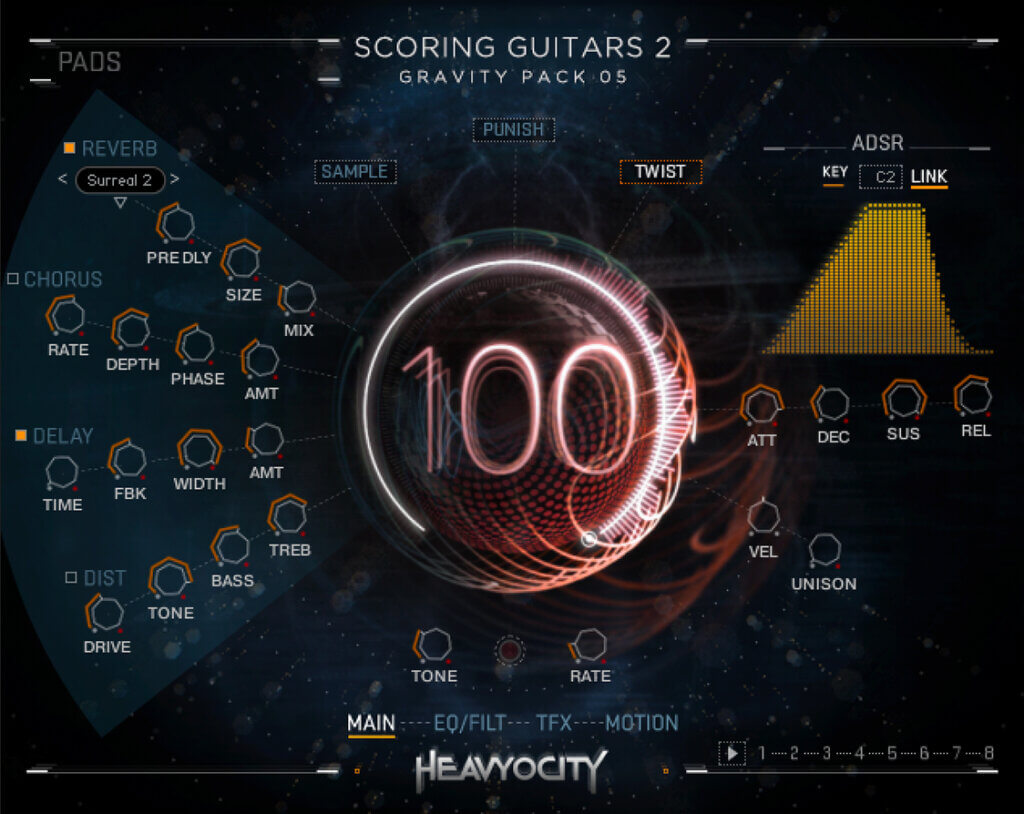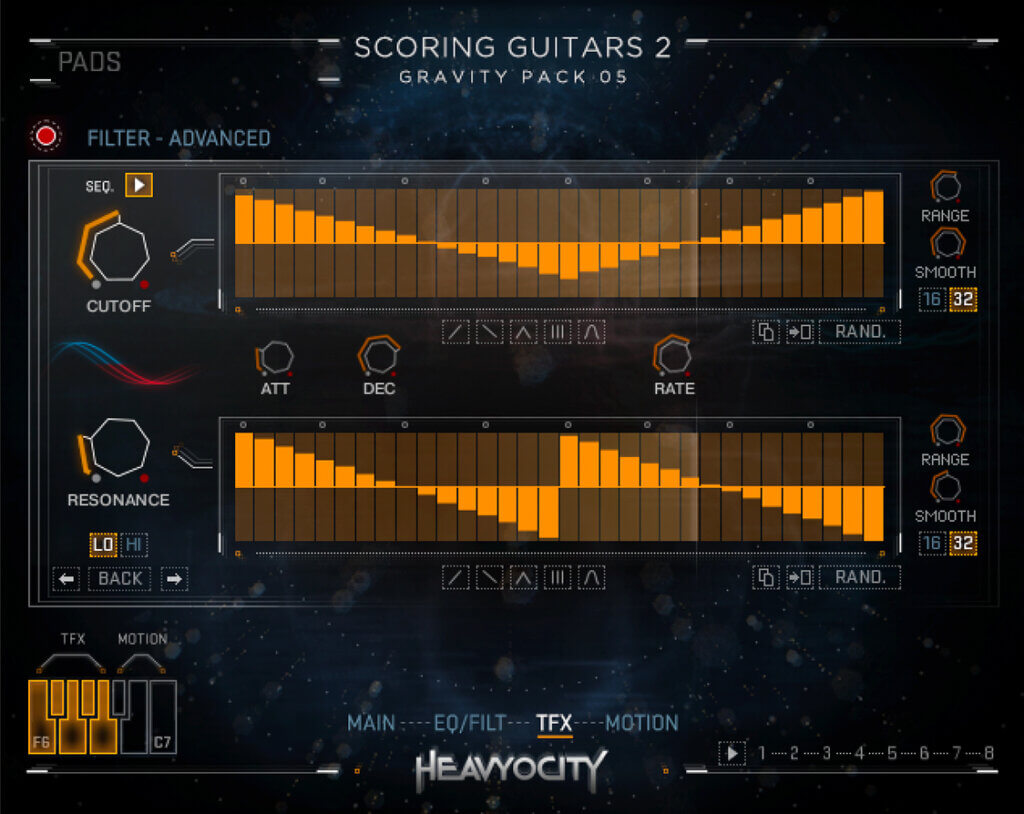 DRIVING PULSES
In this guitar VST instrument, tempo-synced pulses create drive and rhythmic elements for filling out your score with cinematic guitars.
CINEMATIC PHRASES
With Heavyocity's Scoring Guitars 2, create powerful interstitials and transitions or combine them to build out custom motifs.
AMBIENT BEDS & DRONES
Expertly-crafted cinematic soundscapes are sourced from impeccably-recorded electric guitars, mangled, processed, and layered by our best-in-class sound designers.
PEOPLE ARE TALKING
Awards, Reviews, and Testimonials
"Scoring Guitars 2 builds on the strengths of the first with more of the great sounding ambiences and pulses. Overall, this is a wonderful instrument on its own that really shines in combination with other Heavyocity instruments."
Ramin Djawadi
Game of Thrones, Iron Man, Westworld
"Heavyocity has released yet another indispensable addition to the Gravity line. From the slick pulses and phrases to the evocative beds and drones, there's some really fresh and inspirational sounds begging to be added to your palette."
Clinton Shorter
District 9, 2 Guns, Contraband
With Scoring Guitars 2, they've raised the bar again and provided a collection of sounds that will instantly add motion and drama. These new sounds are instant inspiration.
Cris Velasco
Assasin's Creed: Dead Kings, Clive Barker's Books Blood, Mass Effect 3
Heavyocity has taken guitars to a whole new level with Scoring Guitars 2. I love the clean tone of the instrument and having so many choices to distort, mangle and overall punish the original sound.
Jason Graves
Dead Space Series, Tomb Raider, Far Cry Primal
EDGIER SONIC SPACE
Scoring Guitars 2 builds on the inspiring foundation of the original: adding chunky rhythmic pedals, a plucked, multi-sampled semi-hollow body, and a new set of keys (D & G) to this refreshed collection of pulses, pads, phrases, and ambiences.
WORLD-CLASS GEAR
From a souped-up Strat to a classic 335, we've harnessed the beautiful tones and electric energy of our world-class cinematic guitar VST collection. From chimey, bright clean to warm and crunchy overdrive, Scoring Guitars 2 delivers pure analog vibe from some of the best guitars and amps in the world.
SHIFT INTO OVERDRIVE
With this cinematic sequel to the award-winning Heavyocity Scoring Guitars, we set out to create another cutting-edge guitar VST instrument, but with a little more edge. Driven through a vast collection of studio-quality effects, these guitars blow passed subtle, into the realm of saturation.
5.33 GB uncompressed (4.1 GB compressed)
Available as direct download only
300+ Motion Presets (NKA's)
380+ NKIs

71 Complex Pads
50 Ambient Beds and Drones
164 Melodic Pulses and Phrases (wet & dry)
88 Rhythmic Pedals (wet & dry)
12 Performance Palettes
3 Xtra Playables

Motion page for advanced volume, pitch, and pan pattern creation
Playable Trigger FX™ for real-time control
Stand-alone, VST, AU, AAX
Does NOT require Gravity
Powered by the Kontakt 5 Engine
Kontakt 5 (Player) ver 5.7.1 or higher
Minimum System Requirements

Mac: Mac OS X 10.11, macOS 10.12 or 10.13 (latest update), 4 GB RAM
PC: Windows 7, Windows 8, or Windows 10 (latest Service Pack, 32/64-bit) Intel Core 2 Duo or AMD Athlon 64 X2, 4GB RAM
Scoring Guitars 2 is uniquely watermarked for each individual customer
All files in Scoring Guitars 2 are watermarked using a propriety technology
Customers may be required to provide their full Identification for authorization purposes
Legal:
Heavyocity Media, Inc. will use all remedies of the law, to their full extent, against anyone who illegally distributes/sells/shares the library
Heavyocity Media reserves the right to modify these terms at any time
Prices, Watermarking, and Availability subject to change without notice.