The Damaged Orchestra
We've deconstructed the orchestra. With this orchestral VST, we rebuild it from the ground up to push the bounds of power, creativity, and aggresion in modern scoring.
Thrilling traditional combinations. Visceral sound design.
And the gnarliest Braams you've ever heard.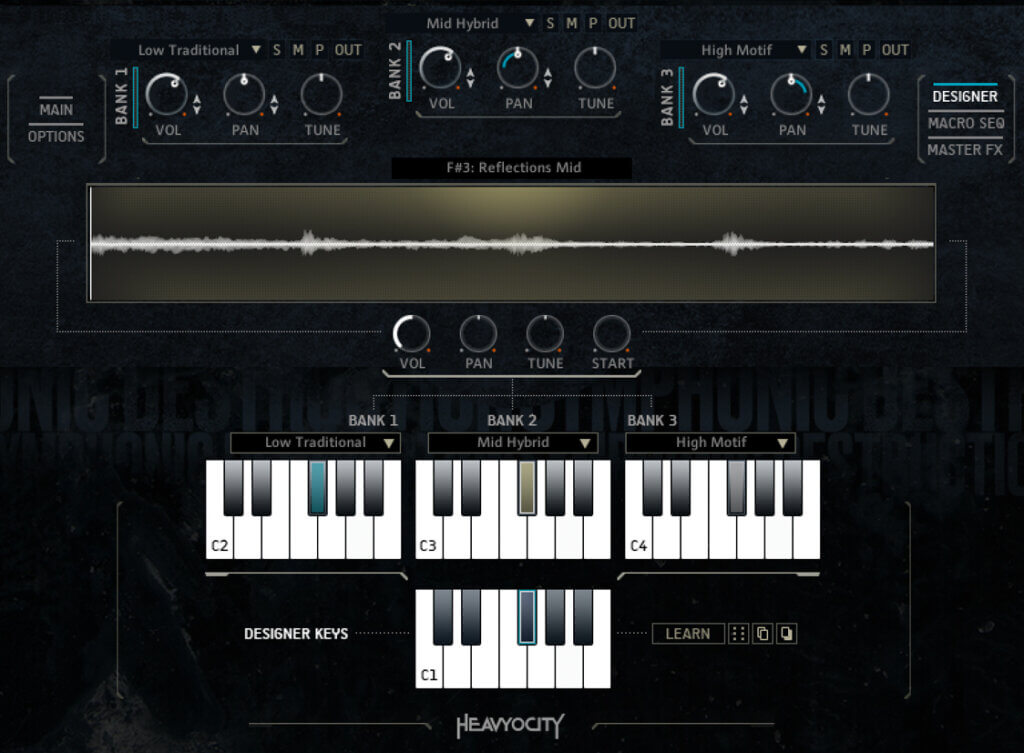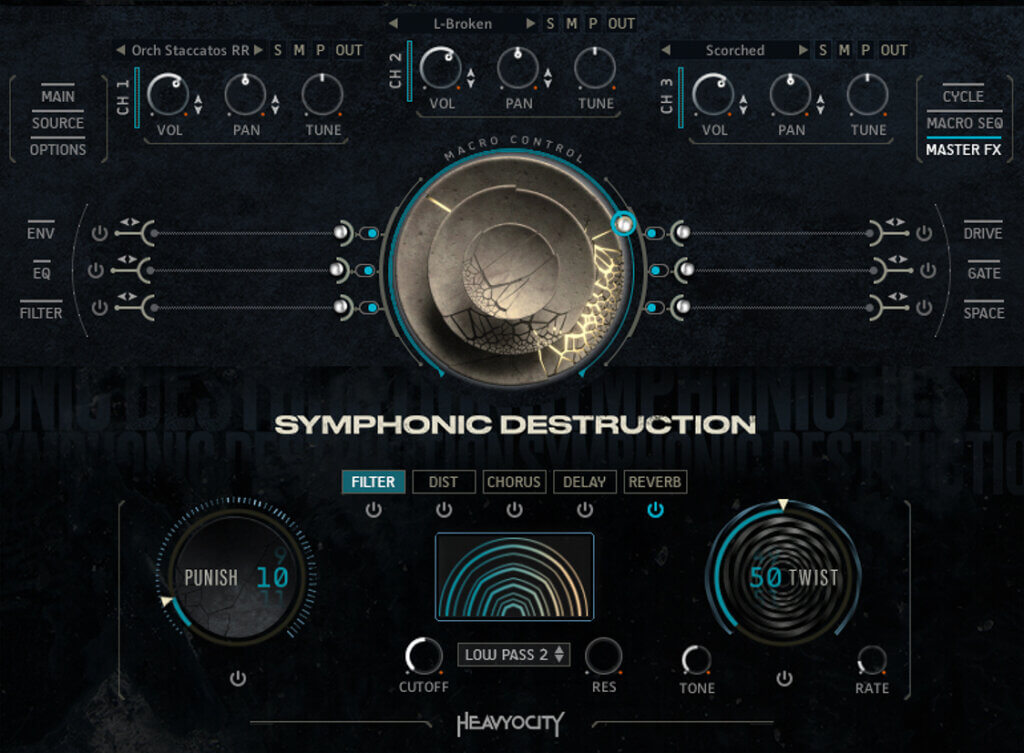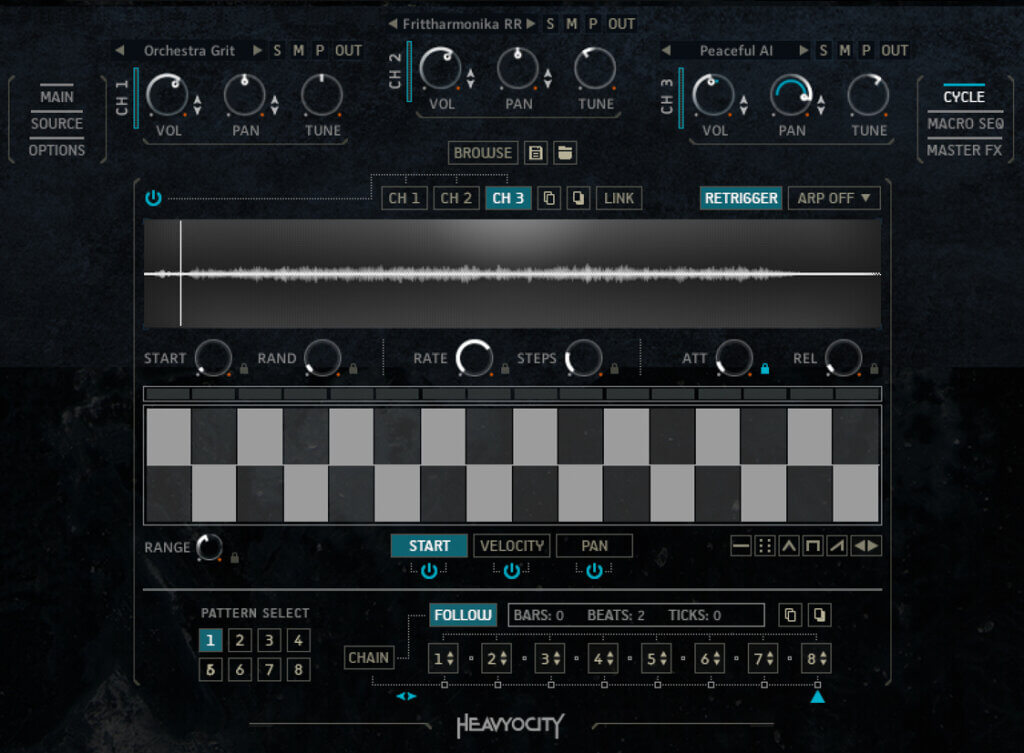 MORE TO DAMAGE
This is what it sounds like when we apply the epic approach of Heavyocity's Damage 2 to the orchestra. A collection of hybrid DAMAGED elements—like Full Orchestra Portatos saturated with analog gear—that attack your cues with the same energy and vigor that you do.
DESIGN YOUR SCORE
The heart of Symphonic Destruction (the SD Designer) is all about POWER. In this orchestral VST, we rebuilt the orchestra to combine creative organic, inspiring rhythmic, and signature sound design elements, unleashing a new generation of epic, cinematic scores.
BRUTALIST BRAAMS
The Braams in SD haven't just been created, they've been unearthed from the ground and violently destroyed. Coupled with the innovative Braam Designer—deconstructing each Braam to its unique components—and the endless combinations will ensure your Braam well never runs dry.
RHYTHMIC PEDALS
Whether you're scoring an intense chase scene or a nail-biting thriller, you're going to need dynamic rhythmic elements to drive your scene forward. Good thing Symphonic Destruction includes nearly 100 inspiring rhythmic pedals, ranging from the sweet to the severe, the delicate to the destroyed.
MELODIC MOTIFS
We know you use 'em (it's okay, we do too). And if you're gonna use loops, you might as well use the best ones out there. And here comes SD to refill your tonal loop tank, complete with the most thrilling, the most inspiring, and the MOST EPIC melodic motif loops you've got in your arsenal.
SONIC DECONSTRUCTION
It's an all-new approach to orchestral scoring, combining traditional, hybrid, synth, heavy guitars—anything to level up the epic of your composition. One thing's for sure...the orchestra will never be the same.
ENDLESS CONTENT
It's not just that Symphonic Destruction contains an insane amount of incredibly-usable hybrid cinematic content. It's that the powerful SD Engine also contains the sound-shaping capabilities to never stop making that content new.
INSTANT CUE
True inspiration in an instrument comes from the power to move, to challenge, and to inspire the composer. Symphonic Destruction is up to the task. Fire this orchestral software up, and you'll see: In preset after preset, patch after patch, there's a film cue laid out across the 88 keys.
People Are Talking
Awards, Reviews, and Testimonials
Heavyocity made the definitive percussion library with Damage 2. They've now brought that same ingenuity to the orchestra with Symphonic Destruction. This is a must-have library.
Theodore Shapiro
Bombshell, The Devil Wears Prada, The Secret Life of Walter Mitty
Let's just start with the name, how could "Symphonic Destruction" not be cool? Seriously though, sonically it's very modern sounding, which I look for. It just has a Cinematic quality to it that I love, amazing instrument. Into my palette it goes...
Trevor Morris
2-time Emmy Award-Winning Composer, Vikings, London Has Fallen, Big Sky
What is there to say? This is Heavyocity at their strongest yet. A no-brainer purchase for anyone looking for that modern edge and grit!
Jason Graves
Dead Space Series, Far Cry Primal, Tomb Raider
I love the raw energy and the impressive hybrid orchestral sound of Symphonic Destruction! My favorite aspects of the library are the Loop Designer, Damaged Guitars, and Damaged Pedals. I look forward to pairing this with my copy of Damage 2.
Germaine Franco
Encanto, Dora And The Lost City of Gold, Tag
Symphonic Destruction picks up where D2 left off: applying the same super-useful functionality to new symphonic/tonal source material. Heavyocity continues to set standards for what media-composers really need. Just the Braam Designer alone makes this worth getting!
Paul Haslinger
Halt and Catch Fire, Underworld, Monster Hunter
Symphonic Destruction gives you the tools to create one-of-a-kind dynamic signatures with speed and ease, and to give shape and tension to a story in sonically-inventive ways. This is a great, responsive instrument.
Ronit Kirchman
The Sinner, Limetown, Zen & the Art of Dying
Endless interesting braams, sinister pads, and gruff basses… The variation of textures are fresh and the amount of customization is seemingly endless. Ideal for any thriller soundtrack or trailer where unheard textures are required. Another amazing release from Heavyocity.
Charles Deenen
Call of Duty (trailer), Battlefield (trailer), Acura (commercial), Porsche (commercial)
The Ultimate Epic Combination
Nothing complements an epic hybrid orchestra like epic cinematic percussion.
Add Damage 2 to Symphonic Destruction, and let the demolition begin.
Learn More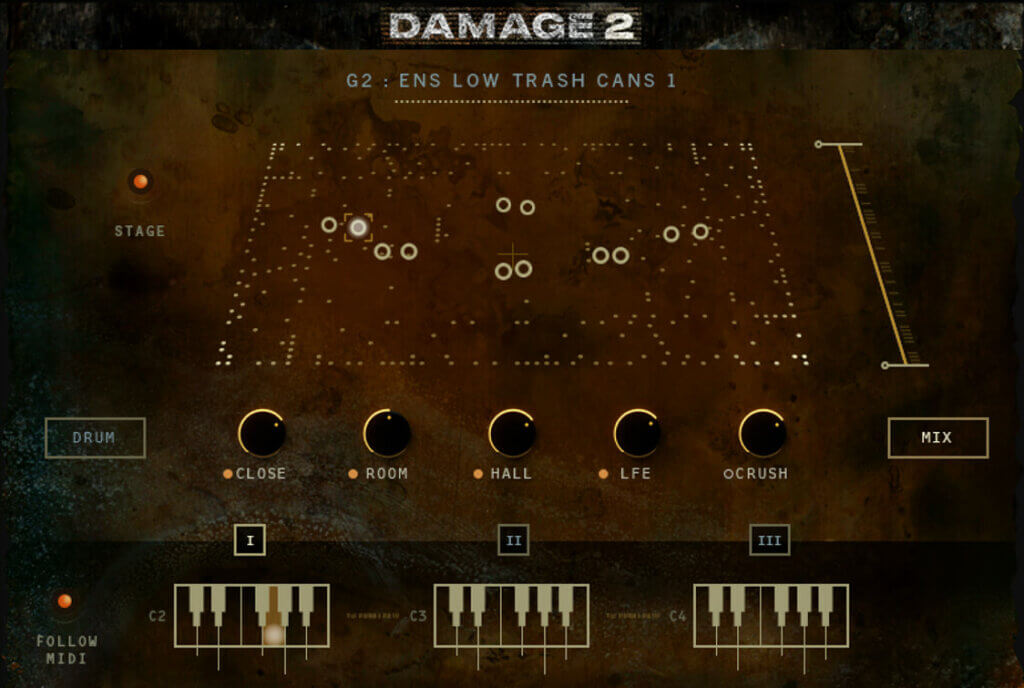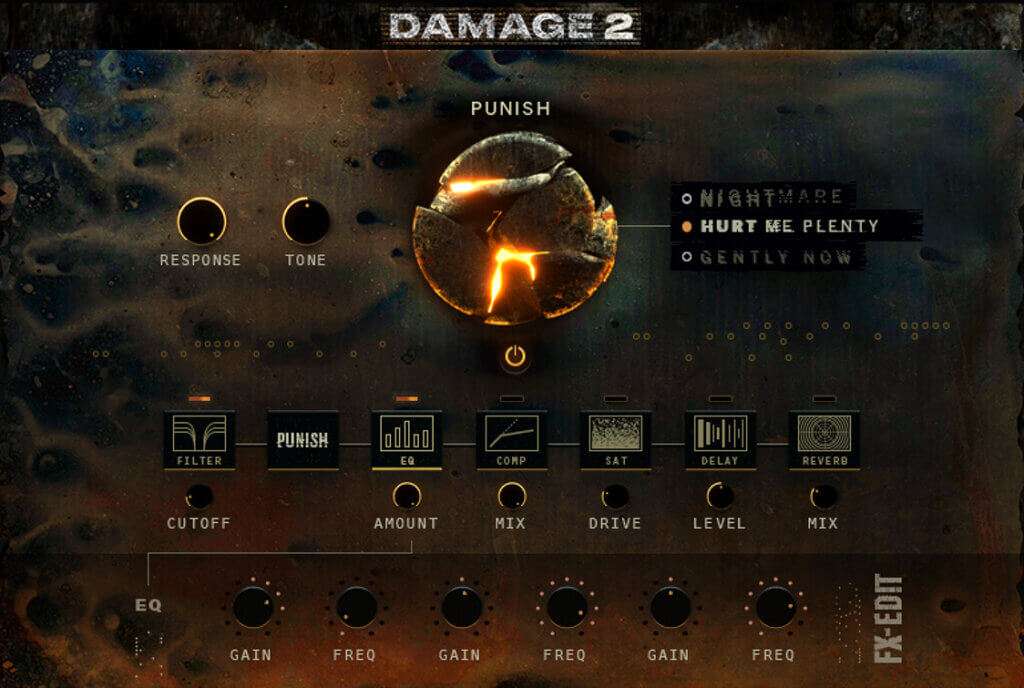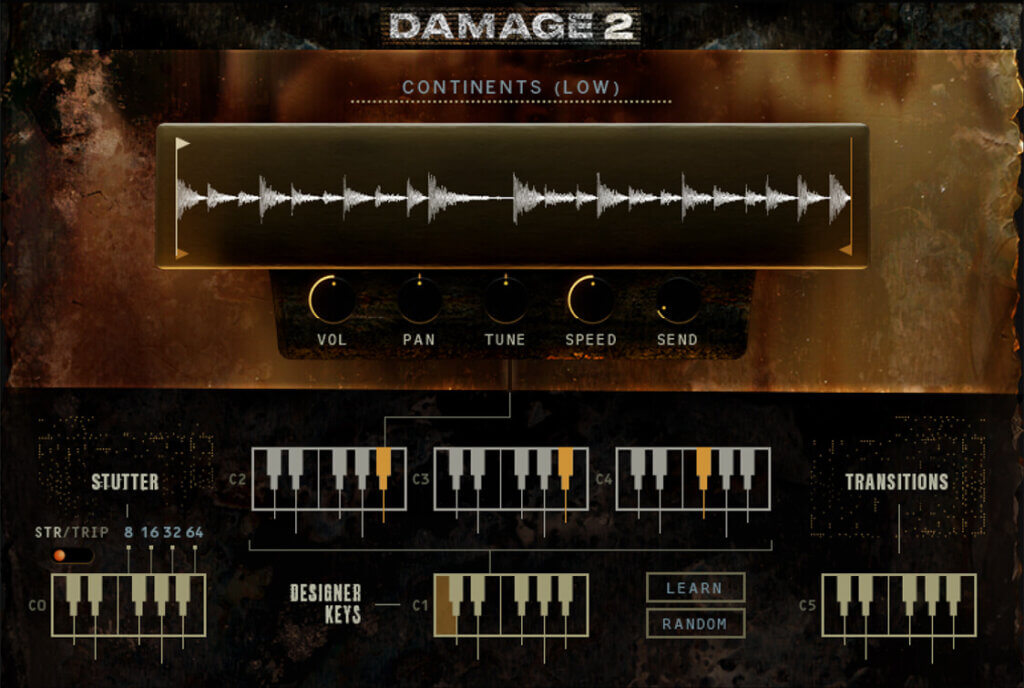 Over 11,800 Samples
445 Sources (Full Content Breakdown)
210 Custom-Designed Presets
4 Unique Engines:

SD Designer

Intuitive Browser to load in 400+ sources in 3 banks
CYCLE page for advanced granular & rhythmic playback
MACRO knob for dynamic multi-parameter control

Braam Designer

108 unique Tonal Hits (36 with 3 stems – Subs, Mids, Tails)

Loop Designer

216 Loops

144 Motifs (72 straight, 72 triplet)
72 Rhythmic Pedals (36 straight, 36 triplet)

Performers

Traditional – 30 articulations
Hybrid – 25 articulations
Damaged – 16 articulations
Soundscapes – 26 articulations
Traditional Pedals – 24 (tempo-synced, multi-sampled)
Hybrid Pedals – 24 (tempo-synced, multi-sampled)
Damaged Pedals – 24 (tempo-synced, multi-sampled)
Damaged Guitars – 24 (tempo-synced, multi-sampled)
26.71 GB uncompressed (17.4 GB on Disk with NI lossless compression)
Powered by the Kontakt 6.6.1 Engine
Kontakt 6.6.1 (Player) or later
Komplete Kontrol integrated (NKS-ready)
Available as direct download only
Stand-alone, VST, AU, AAX
Minimum System Requirements:

Mac: macOS 10.13, 10.14, 10.15, or 11 (latest update), i5
PC: Windows 7, Windows 8, or Windows 10 (latest Service Pack), Intel Core i5 or equivalent CPU, 2 GB RAM
Graphics hardware support for OpenGL 2.1 or higher
4 GB RAM (6 GB recommended for large KONTAKT Instruments)