BEYOND EMOTION
Immerse yourself in this richly evocative, atmospheric, and soul-stirring vocal experience. Like Heavyocity's Vocalise 2, Vocalise 3 is an emotive exploration that unearths the beauty, intimacy, and profound power of the human voice. From organic phrases to abstract whispers to haunting soundscapes ━ these are delicate hybrid vocals that flow beyond emotion.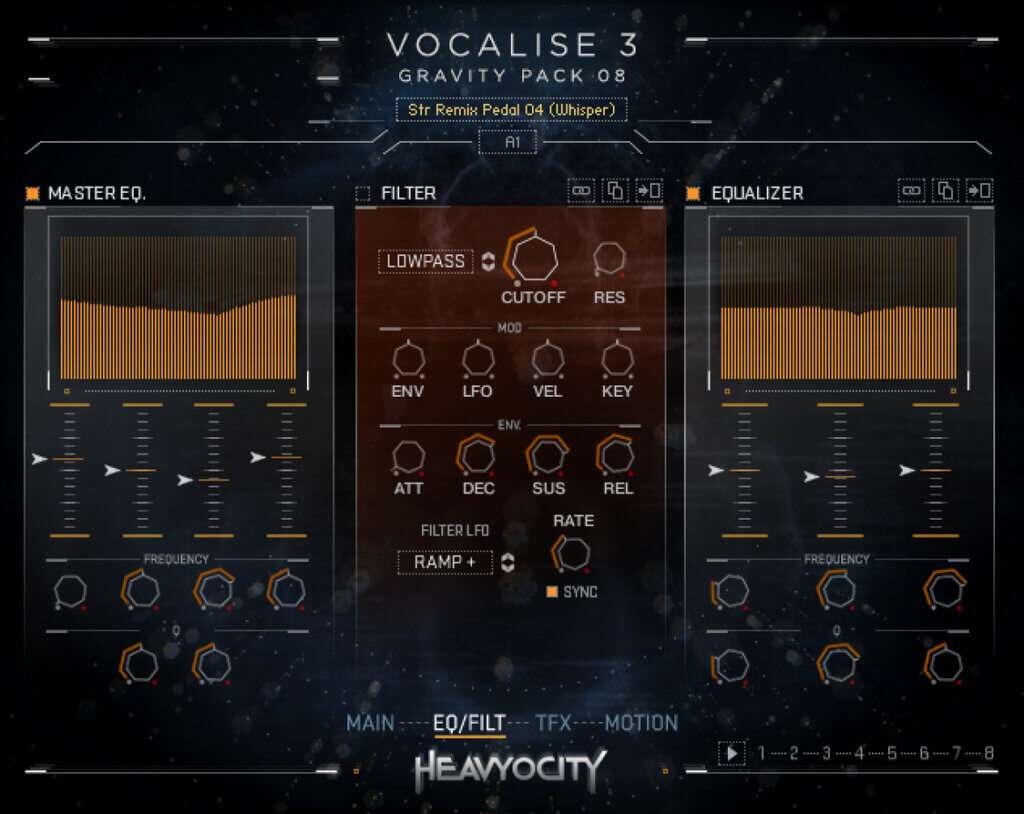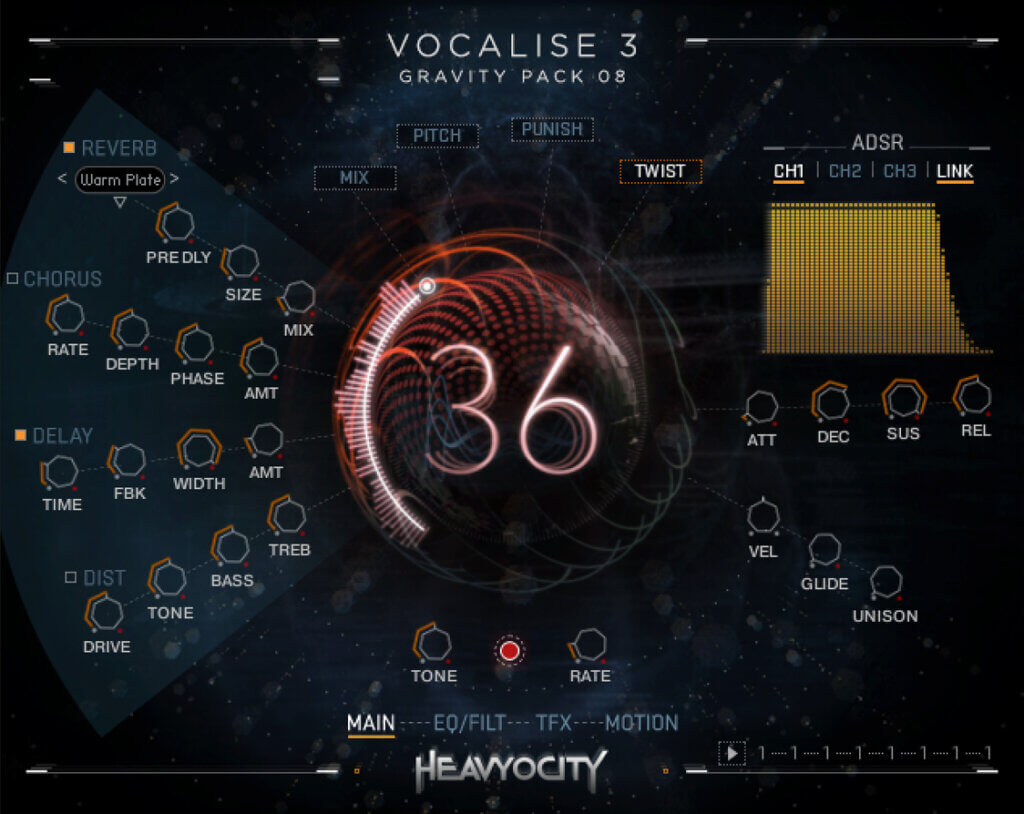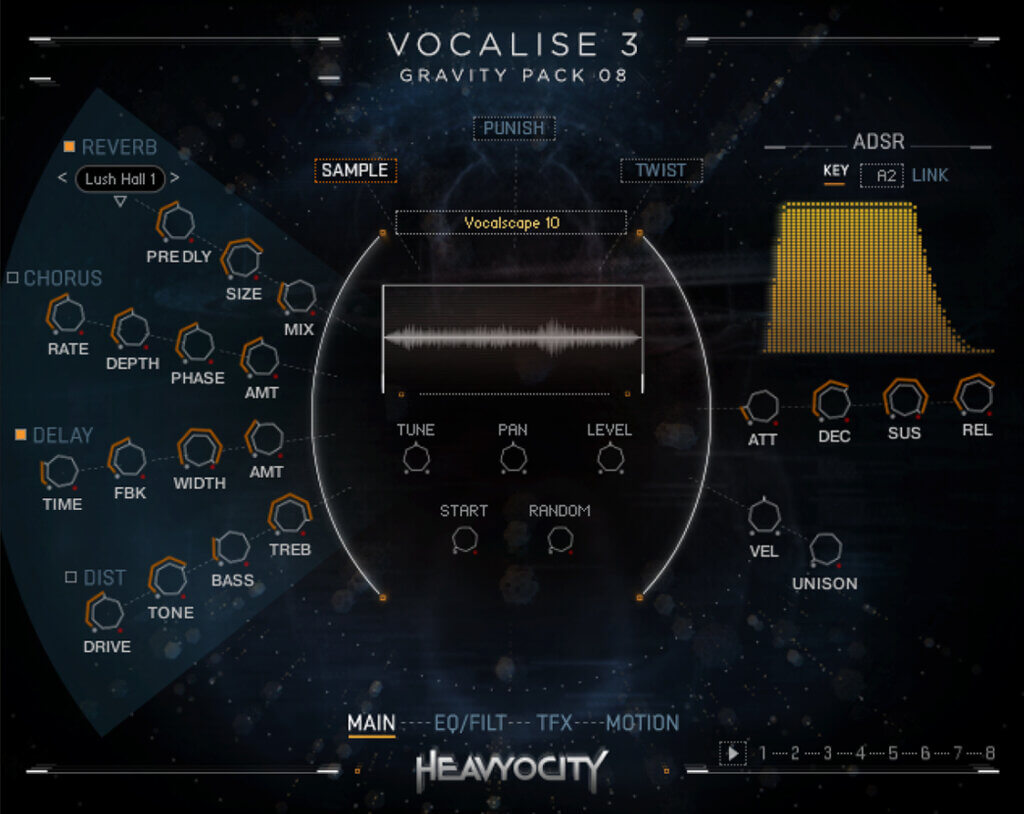 Rhythmic Pedals
A variety of complementary rhythmic and breathy loop performances can be used individually to add moving vocal elements or combined to create unique textures.
EMOTIONAL PHRASES
With major and minor modes, and four different keys, give your score all the versatility it could desire. This collection of tempo-synced melodic phrases can be tuned to the key of your choice.
VOWELS
Single and moving vowel sounds, multi-sampled across the singing range allow for numerous vowel combinations that are rich in timbre and when modulated, can offer a myriad of luscious chordal textures.
SOUNDSCAPES AND DRONES
A fusion of music and sound design provides unique ambience, harmonics, and textures ― adding the subtle vocal undertones that will elevate your cue.
People Are Talking
Awards, Reviews, and Testimonials
"Heavyocity has done it again, once more, one-upped themselves, raised the bar, pushed the envelope for what a "vocal library" can do."
Jason Graves
Dead Space Series, Far Cry Primal, Tomb Raider
Vocalise 3 is distinctive and detailed in its sound. Beautiful voices and a novel sampling approach come together to create an intriguing library.
Ramin Djawadi
Eternals, Game of Thrones
Vocalise 3 is such an inspiring instrument. It's a fresh take on vocals! It's endlessly versatile. Here's another great Heavyocity product that is a must-have for all media composers.
Germaine Franco
Encanto, Dora and the Lost City of Gold, Little
THE INTIMATE SIDE
Capturing exquisite vocal performances was only the beginning of this profoundly powerful instrument. Unique vocal performances, expanded vowels, recorded transitions, whispers and breaths all add to its ethereal quality.
EMOTIONAL MOVEMENT
Building on our cinematic vocal mission, Vocalise 3 delivers creative additions and expanded functionality — new syllables, emotive textures, and unmatched playability — making it our most comprehensive and cutting edge vocal library to date.
UNIQUE SOURCES
Recorded at Heavyocity's studio in NY, our renowned sound design team has taken the unique source material and processed it to build an inspiring instrument that expands in both scope and scale ― pushing the boundaries of cinematic vocal production into an entirely new realm.
7 GB uncompressed (4.71GB compressed)
Available as direct download only
2,033 Sound Sources

384 Tempo-Synced Melodic Phrases (comprising four different keys, major and minor)
36 Tempo-Synced Multi-Sampled Syllabic Pedals
576 Tempo-Synced Intervals (24 mapped presets)
16 Dynamic and Moving Vowels
184 Unique Vocal Scapes and Drones

190 NKIs
300+ Motion Presets (NKA's)
Motion page for advanced volume, pitch, and pan pattern creation
Playable Trigger FX™ for real-time control
Stand-alone, VST, AU, AAX
Does NOT require Gravity
7 GB uncompressed (4.71 GB on Disk with NI lossless compression)
Powered by the Kontakt 6.7 Engine
Kontakt 6.7.1 (Player) or later
Komplete Kontrol integrated (NKS-ready)
Available as direct download only
Stand-alone, VST, VST3, AU, AAX
Minimum System Requirements:

Mac: macOS 10.14, 10.15, 11 or 12 (latest update)
Apple Silicon Macs (via Rosetta 2 & natively on ARM in Standalone or in hosts that support it): macOS 11 or 12 (latest update)
PC: Windows 10 or 11 (latest Service Pack), Intel Core i5 or equivalent CPU, 2 GB RAM